5@5 is a daily, food-related list from chefs, writers, political pundits, musicians, actors, and all manner of opinionated people from around the globe.
As of last night, there's a new Iron Chef in town - or better yet, in Kitchen Stadium. And being the new kid on the block can be scary, even if you did beat out nine other chefs while wielding sharp knives.
For those who haven't yet watched the final episode of "The Next Iron Chef," keep reading at your own risk of spoilage. For those who have, an Iron Chef's fears are about to be realized.
...Don't say we didn't warn you.
...Oh, you didn't watch it? Why are you still reading?
...Here we go. Stop now or forever hold your peas. (Har har!)
Five Fears I Have About Being an Iron Chef

Newly-crowned Iron Chef Marc Forgione is the executive chef of his self-titled restaurant in the TriBeCa neighborhood of New York City – which was recently awarded one star by the 2011 Michelin Guide. He is also the son of cooking legend Larry Forgione, of An American Place restaurant fame.
1. "Facing my father, Larry Forgione, one day in Kitchen Stadium."
2. "Pulling a muscle trying to imitate the Chairman's swift head movements."
3. "Getting into a battle of wits with host Alton Brown."
4. "Having to make chicken liver ice cream with Kitchen Stadium's renowned ice cream machine."
5. "Breaking one of Chef Masaharu Morimoto's plates!"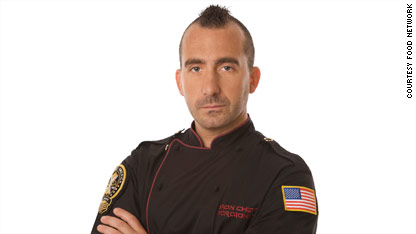 Is there someone you'd like to see in the hot seat? Let us know in the comments below and if we agree, we'll do our best to chase 'em down.
Previously - The newest Iron Chef on 5 People Dead or Alive I Want to Cook For