If someone built a wine bar in my heart, it'd be Terroir. In their two Manhattan locations, as well as at their sister restaurant Hearth (home of Next Iron Chef contender Marco Canora), general manager, sommelier and proud son of Canada Paul Grieco and his merry band of oenophiles enact a sort of grape-based activism, bringing under-drunk, often challenging wines to the fore.
As the Hearth website notes, "The list is meant to be confrontational as the majority of wines are not well known. But have no fear, we are here to guide you and educate you – without the intimidation factor."
Amen to that. Some of the most exquisite and unpretentious melding of food and booze I've ever had has been at the hands of Grieco and Co. - including, 4 1/2 years ago, a Sherry-centric dinner that paired courses with many permutations of the fortified Spanish wine. That dinner has flitted across my mind lately, so I reached out to the team via e-mail.
So, I have this wacky notion that people should serve Sherry at Thanksgiving (sorry, Paul – American Thanksgiving). Agree? Think that's just poppycock? Are there any grapes from the back of the bus that could use some love on T-Day?

Steven Solomon, a.k.a. the Stickermeister - the mad genius behind Terroir's James Beard Award-nominated graphics and highly entertaining @terroirny Twitter feed replied quickly.
I would think about NY reds that need respect: TriBeCa [where Terroir has an outpost] has a Dornfelder from Fulkerson, Finger Lakes, sort of Gamay like. Also, fight dumb Beaujolais Nouveau with real Beaujolais. [Editor's note: more on that below]

[Later] Should I have mentioned Palo Cortado with sweet potato pie?
Then Paul Grieco emerged from his vat of 1985 Tenuta San Guido Sassicaia to offer guidance...and digressions.
I love Sherry and consume it even when I am not permanently ensconsed in my bubble bath...with Stickermeister dutifully insuring proper bubble aeration...but I digress.

I think the more appropriate fortified drink to do on Thanksgiving is Madeira. While the island is a Portuguese possession, the drink is ours due to its connection to the slave trade back in the day. The Declaration of Independence signing was toasted with Madeira, not Budweiser or Snapple or Nighttrain Express or fire water sucked from between the rocks that compose Michele Bachmann's brain...but I digress.

My personal Thanksgiving meal will begin with Finger Lakes Riesling, followed by Norton from Cincinnati, Ohio and finishing with a hefty dose of Bual Madeira 1988 to wash down the screaming of my father because I didn't clean my bedroom...but I digress.
Now, suitably mad for Madeira, let us turn our attention to Beaujolais Nouveau - a red wine aged from Gamay grapes and released, to great pomp, on the third Thursday of each November. Our Terroiristes regard it as, per French wine critic François Mauss says, "vin de merde" and quipped on Twitter, ""Has Beaujolais Nouveau fever hit you yet?" No, luckily innoculated with Morgon as precaution against that dread malady."
As Stickermeister mentioned, they've a stated preference for "real Beaujolais" and explain extensively on their winelist at Terroir: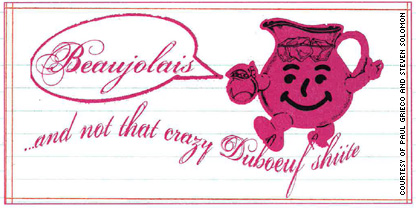 Yes, we know, we know. The Nouveau debacle has tainted everyone's opinion about what Beaujolais can truly be. And actually is if you search beyond those flowery labels. There is a lot of simple, eminently quaffable stuff out there; think Beaujolais Superieur from the Bas Beaujolais. But we are going to focus on the Haut Beaujolais, the 15 mile stretch of land just south of Macon. In this area are the 10 Crus of Beaujolais, the 10 villages where the Gamay Noir a Jus Blanc achieves greatness growing on the volcanic knolls that are composed of granite.

Lest anyone forget, the Beaujolais region is administratively part of Burgundy. We can thank Philip the Bold for the vinous separation of the 2 areas when he deemed that the Gamay grape be banned from the limestone hills of the Cote d'Or (intuitively, he might have known that Gamay loves granite.) Geologically, Beaujolais appears to be closer in form to the Northern Rhone Valley since we see more incredible granite outcroppings as we go south of Lyon.

What further distinguishes Beaujolais is that the wine is made using carbonic maceration. The rather brisk fermentation (whole bunches are placed in the vat with the weight of the upper bunches crushing the bottom 10%-30% of grapes; these grapes ferment in the normal way and the carbon dioxide given off enshrouds the grapes at the top of the heap and an intrecellular fermentation takes place) last about 4-6 days. It is this rather unique form of fermentation that gives the typical Beaujolais notes of pear drops and bananas.

Beaujolais is not meant to be a great wine. It is meant to be a good wine. Happiness can be a very uncomplicated thing.
Happiness. C'est arrivé.