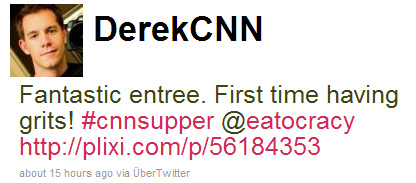 CNN Digital Producer and on-air personality Derek Dodge got his very first taste of grits last night at Eatocracy's inaugural Secret Supper at Chef Linton Hopkins' Restaurant Eugene. Sure, he's a recent Atlanta transplant, but folks at the table were shocked, SHOCKED to learn that he'd made it this far in life without sampling this Southern staple.
His response - he'd always been put off by the name. Grits sound, well gritty. Point taken. Though they're exceptionally close in construct to Italian polenta, the name could be a tad repellent to those who've not been schooled in the ways of their creamy majesty. The chef agreed that perhaps a re-branding could help ensnare a phobic public - though he admitted a certain glee in straight-up saying "hog jowl" rather than "guanciale" and "lardo" rather than "white bacon."
For the record, Derek polished off the whole portion and seemed to enjoy every bite of those Anson Mills grits with braised beef short rib, roasted log-grown shiitakes, red wine jus, and baby carrots that Joe Reynolds of Love Is Love Farm has just picked 30 minutes before. He may not have been a grit eater, but that boy knows what's good.